Next content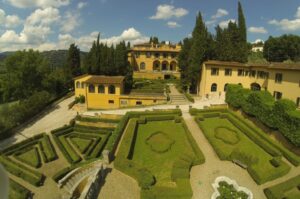 Recent Developments in Competition Policy – 2022 edition The Autumn School is an advanced course on recent developments in competition policy in Europe, the USA and the rest of the world. The Autumn School...
2022 marked a historical year for the Conference on Postal on Postal and Delivery Economics, the annual gathering of regulators, companies and scholars active in the postal and delivery sectors organised by the Florence School of Regulation – Communications and Media.
This year's edition was exceptional for several reasons. Firstly, the return to an in-person gathering: after two consecutive online editions due to Covid-19 restrictions, participants were glad to meet in person again, to resume face-to-face discussion and networking, and enjoy the suggestive venue of the Grand Hotel Rimini, a seaside resort on the Adriatic coast in Italy.
Last but not least, 2022 marked the 30th anniversary of the Conference on Postal on Postal and Delivery Economics. Established in 1990, the Conference has welcomed 4200 participants over the years. This year's edition took place on 25-27 May and welcomed almost 80 participants, some of whom have attended the conference since its very first edition.
During the conference, the speakers presented 32 papers that addressed both traditional issues in the regulations and economics of the postal services and the emerging challenges of the sector.
In the 3 plenary sessions and 8 parallel sessions, speakers and participants discussed issues such as the funding of the Universal Service Obligations, postal costs, the evolution of regulation for parcels and Universal Service Providers; moving onto the new trends and emerging challenges, they talked about the role of e-commerce platforms in the delivery sector; last mile regulation; the promotion of sustainable development of the sector, and the impact of Covid-19 on posts and logistics.
The discussion was enriched by three keynote speeches delivered by Giacomo Lasorella, President of the Italian National Regulatory Authority (AGCOM); William Kovacic, Professor of Law at George Washington University (USA); and Petros Galides, Deputy Commissioner at the Cyprus National Regulatory Authority (OCECPR).
It is customary for the Director, Prof  Pier Luigi Parcu, to announce next year's location on the last day of the conference, and this year was no exception: participants can already mark their calendars for May 2023 in Gdańsk, Poland.
The book collecting the presentations delivered at the conference is now available! Discover the new book "Postal Strategies Logistics, Access, and the Environment"