Next content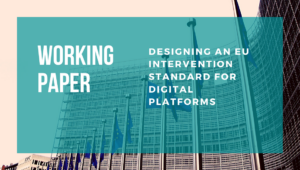 A consensus is emerging around the world about the need for policymakers to address certain characteristics and competitive tendencies that are generated by digital platforms or digital ecosystems, potentially reforming the public policy instruments...
Following a succesful conference, The Way Towards the Internet of Things: Open Standards vs Silos in November 2019 we share our latest video interviews with conference presenters including keynote speaker Nikos Isaris, Acting Head of Unit for Internet of Things at DG CONNECT.
With smart, connected devices proliferating and a variety of applications and across industries, the Internet of Things (IoT) will affect the way businesses, governments, and citizens interact with the physical and digital worlds and the development has been touted as the fourth industrial revolution.
The conference offered an occasion to discuss one of the key challenges to IoT adoption, interoperability – the ability of two or more systems or components to communicate and share services with each other – and to explore the benefits and drawbacks of open standards versus proprietary frameworks and protocols.
See the videos below
---
Nikos Isaris, Acting Head of Unit Internet of Things of the DG Communications Networks, Content and Technology of the European Commission, explains the role of the Unit and the activities that the European Commission launched to support Open Standards.
Joachim Henkel, Professor at the Technical University of Munich, explains the importance of standards in the Internet of Things and discusses some open issues related to patent licensing.
Ilja Rudyk of the European Patents Office,

presents the main results of a recent European Patent Office study on patenting trends in automated driving

.
See more videos from the Robert Schuman Centre for Advanced Studies
here
.