Next content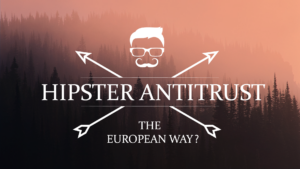 The fourth Annual Conference of the Florence Competition Programme (FCP) will take place on 25th October 2019 at the European University Institute (EUI) campus in Florence. The fourth FCP Annual Conference will discuss the...
The paper "Data Ownership and Data Portability in the Digital Agriculture Sector: A Proposal to Address Novel Challenges" (Atik, C.) will be presented at the 8th Conference on the Regulation of Infrastructures (20-21 June, 2019).
ABSTRACT
The 'datafication' of the economy has brought about various opportunities as well as new challenges, and naturally created echoes in different fields of law such as privacy, consumer protection, taxation, and competition law. Especially in the last field, there has been a comprehensive debate about the possible anticompetitive effects of 'Big Data' by predominantly focusing on online platforms including search engines, e-commerce platforms and social networks.
On the other hand, Big Data also has significant effects on other industries. For example, although there might be a perception that agriculture is a solely rural activity which is far from technology, modern agriculture is densely data-driven today with the advent of Smart Farming practices. This technological transformation created the Digital Agriculture sector in which companies provide data-driven agronomic solutions for farmers. However, the new sector emerged with some genuine challenges. One of the prominent data related legal discussions in the sector is about ownership of data, i.e. whether data belongs to farmers or Agricultural Technology Providers (ATPs). It is argued that data -collected from fields or barns- might not belong to farmers in some particular instances, especially after ATPs process the data. Moreover, the applicability of the General Data Protection Regulation (GDPR) to this nascent sector is also contradictive as the main proportion of data in the sector is sensor/machine generated non-personal data. This legal ambiguity brings about significant concerns for farmers because they might not transfer their data to another service provider, and this lock-in situation might result in significant dependency of farmers on the existing ATPs.
Although suggestions to address these challenges have mainly focused on the idea of giving the data ownership right to farmers so far, this paper argues that giving the ownership right to farmers is far from solution by reminding that ownership is a transferable right, and this could even exacerbate the farmers' weaker position vis-a-vis ATPs: once a farmer (as the owner of the data) signed the (sometimes highly one-sided and unbalanced) service agreement of an ATP (which has sale of data provisions for instance), ownership of data would even be transferred completely to the ATP. This might increase the dependency of farmers on ATPs by legitimising ATPs' data-ownership arguments. In this regard, the solution should be more complex than just giving the right of ownership to farmers. In light of this context, this study focuses on the legal concepts of 'data ownership' and 'data portability' in order to propose some principles for a possible regulatory attempt to mitigate current and possible sector-specific challenges by also taking into account the need of enhancing data-driven innovation in the emerging Digital Agriculture sector.
Presentation is available here.
ABOUT THE AUTHOR
Can Atik is a PhD Candidate at Tilburg Law School with affiliation to the Tilburg Law and Economics Center (TILEC) in the Netherlands. He holds a Master's degree (LLM) in International Trade and Commercial Law (Merit) from Durham University in the UK, and a bachelor degree from Ankara University Law School in Turkey. Atik is also a registered lawyer at Union of Turkish Bars. His main areas of expertise are the effects of Big Data and IoT revolution on EU competition law and privacy law. He is also interested in M&A, alternative commercial dispute resolution and corporate law.