Links
Next content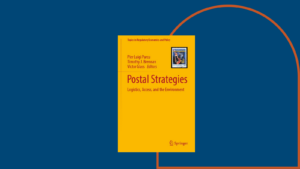 This edited book includes original essays by prominent researchers and practitioners in the field of postal and delivery economics, originally presented at the 30th Conference on Postal and Delivery Economics held in Rimini, Italy,...
Data is often defined as the 'oil' of the 21st century economy: companies that successfully collect and process a large amount of data can provide more personalized services to their customers, develop new products, and reduce their production costs, thus becoming more competitive.
Similarly, public institutions can provide more personalized services to citizens if they can access a large dataset. However, small firms and public institutions often cannot collect a sufficiently large amount of data on their own, and via data sharing small firms and public institutions can access larger and more diversified sets of data, thus boosting their efficiency. Despite its well-recognized benefits, several technical, regulatory and economics obstacles currently limit the degree of data sharing.
This paper first discusses the market failures that currently limit data 'access' and 're-use' – which are jointly defined as 'data sharing'. Secondly, the paper analyses the legislation recently adopted by the European Union (EU) to foster Business2Business (B2B), Government2Business (G2B) and Business2Government(B2G) data sharing, especially by comparing the terms of the compensation that is provided by the EU legislation. Finally, the paper analyses the meanings of Fair, Reasonable and Non-Discriminatory (FRAND) terms in the context of the licensing of Standard Essential Patents (SEPs) and access remedies in EU competition law, to draw some lessons on how the principle of FRAND, in the context of B2B data sharing, is interpreted.