Links
Next content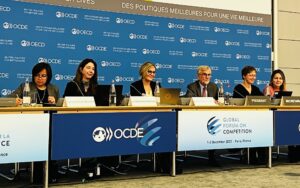 The OECD Global Forum on Competition 2022 took place in Paris on 1-2 December, gathering officials from around 100 competition authorities. Its four main sessions focused respectively on (i) the goals of competition policy, (ii) subsidies,...
The article scrutinises patent prosecution practices in the ICT sector under Arts. 101 and 102 TFEU in light of the CJEU case law and economic arguments pointing to their anti- and pro-competitive effects.
Although the data on European ICT patent prosecution reveals a 'bad dream' of entry barrier features prone to anti-competitive practices, the article acknowledges the limited scope under the existing jurisprudence for EU competition law intervention to awaken from it. Indeed, the data on the European ICT patent landscape hint at substantial patent prosecution cost and timing, rising patent applications and granted patents owned by a few large ICT undertakings, and rare administrative oppositions, especially between symmetric firms. Despite the competition policy appeal of collusive cross-licensing agreements coordinating the parties' ICT patent prosecution strategies to the detriment of technology competition, their investigation under Art. 101 TFEU is yet to be seen. However, the offered evidence suggesting restrictions of competition in ICT technology markets coupled with the anti-competitive findings of the recent Consumer IoT Sector inquiry might justify a follow-on inquiry limited to ICT cross-licensing agreements. Regarding Art. 102 TFEU, the article concludes that the AstraZeneca jurisprudence on abusive patent prosecution is of a limited application for anti-competitive ICT patenting practices that essentially concern blocking patents.
Absent fundamental patent law reforms, EU competition law remains not only a second-best solution to address the depicted bad dream of the ICT patent landscape, but also a very remote one.