Next content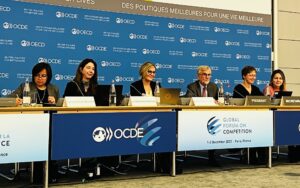 The OECD Global Forum on Competition 2022 took place in Paris on 1-2 December, gathering officials from around 100 competition authorities. Its four main sessions focused respectively on (i) the goals of competition policy,...
On 10 November Igor Nikolic, Research Fellow at the Centre for a Digital Society, participated at the LeadershIP conference in Brussels. At the event, Igor moderated a panel that focused on essentiality checks for standard essential patents.
A standard essential patent is a patent that claims a technology that is necessary for the use of industry standards. Standardised technologies include, for instance, 4G, 5G, Wifi, and Bluetooth found in modern smartphones, computers, tablets, smart watches and many others.
Standards are typically developed within Standard-Development Organisation, such as the European Telecommunications Standards Institute (ETSI) in Europe.
Many patents that are disclosed before Standard-Development Organisations as potentially essential to an industry standard often turn out to be non-essential. For this reason, there is ongoing debate about how to change the current system to verify the actual essentiality of disclosed patents.
Pertinent questions discussed by the panellists included:
Is there a need for essentiality checks in the first place? Do we have enough evidence to conclude that there is a market failure, and that the industry requires such mechanism?
What may be the key benefits and drawback of essentiality checks?
The practical implementation of essentiality checks and its many open questions: for example, should essentiality be tested only on patents submitted by patent owners, or against a sample of all disclosed patents? If sampling model is used, how to conduct it in a reliable and cost-efficient way? Should there be a right of appeal of the first instance decision? What are the corresponding effects of third-party essentiality checks on licensing negotiations? Should there be some counterbalance with obligations on standard-users?
Finally, in the scenario where countries introduce their own essentiality checks: how to ensure consistency and coordinate different national mechanisms? Will it complicate even more the SEP licensing landscape?
LeadershIP is an organisation that unites leading experts on IP and innovation issues at the intersection of research, policy, and industry. Check their website for more information: https://www.ipleadership.org. 
If you're working on the topic, you might be interested in our upcoming conference: Regulation of ICT standards: local rules, global impact? taking place on 27 January 2023, online and in presence.
For more information on our ongoing project on Innovation and Intellectual Property, read here and check the series on IP & Innovation our resources repository.